Branch profile - Austin, TX
Dr. Sketchy's Austin
•

Austin, TX

•

.(JavaScript must be enabled to view this email address)

•

Venue: Elysium - 705 Red River St, Austin, TX
---
Each session of the Austin Dr. Sketchy's is a life drawing class turned cabaret extravaganza. Attendees draw glamorous underground performers, compete in contests, network with other artists, and win prizes. Austin Sketchy was one of the first branches, founded in 2006.
We meet at Elysium (705 Red River St). Our sessions are generally held on the third Sunday of the month, from 6-9pm. There is street parking around the venue. You are welcome to arrive a bit early to set up. Please, no messy or smelly mediums, and please clean up after yourself.
Our sessions range in themes from Conan the Barbarian to Marie Antoinette. The models are chosen for their looks and talent, and are (un)dressed in spectacular costumes. Expect good music, cocktails and (sometimes) burlesque performances, and sporadic wacky contests (best incorporation of cupcakes? best left handed drawing?). Being good at drawing does not matter: this "Anti-Art School" is open to everyone!
https://www.facebook.com/groups/146619802036908/
Twitter: @drsketchyaustin
http://www.AustinSketchy.com
Schedule of Upcoming events
RSS
NYC Events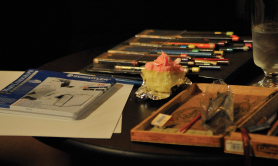 Events Worldwide
Art Tumblr
Dr. Sketchy's Anti Art School  LAS VEGAS, August GREASE theme session.  Here is D Bomb in the Danny ZUKO character.  I think that is how you spell it.
http://drsketchy.tumblr.com/post/96393099092