Dr. Sketchy's Berlin
•

Berlin

•

.(JavaScript must be enabled to view this email address)

•

Venue: WHITE TRASH FAST FOOD RESTAURANT Schönhauser Allee 6-7, 10119 Berlin
---
Since being resurrected in October of 2009, DR. SKETCHY'S ANTI ART SCHOOL BERLIN has been stirring up the art scene in Germany's capital city once again. Run by illustrator and burlesque-lover Johnny Mulholland Fitz, and his bilingual, singer/illustrator co-host Miss LaLaVox (The Most Beautiful Voice This Side of the Wall), Berlin's Anti-Art School returns once a month to present our audience of supremely talented artists with only the finest, most glamorous, most dazzling gals and guys (and everything in between) that Germany has to offer.
Dr Sketchy Berlin takes place at the WHITE TRASH FAST FOOD RESTAURANT - an old Irish Pub which is stuffed full of the contents of the Chinese restaurant that was White Trash's previous location - along with other wonderful visual absurdities for the low-brow art lover - to become one of the wildest and most unique rock n' roll clubs in the city.
Our little franchise wouldn't be viable without the support of our gang of dedicated accomplices: Nina Zimmermann (photos), DJ U.F.O. HAWAII (Music) and our beloved sponsor HELD VODKA (http://www.held-vodka.de)
Schedule of Upcoming events
Sun, December 15, 2013 • 2:30pm - No.41 - "The Little Red Riding Hood Session"
starring
BANA BANANA & BETTY DYNAMITE

And as a special guest
JACK WOODHEAD

With U.F.O. HAWAII spinning the tunes
Join us for a super-relaxed 3-hour Life-Drawing Extravaganza with two extraordinary models, music, drinks, our ever-popular drawing competition and grrrrrreat prizes! (Don't forget your art supplies.)

Where? White Trash Fast Food Restaurant / Schönhauser Allee 6-7
When? Sunday, December 15th / 2:30pm - 5:30pm (doors open at 2:00pm)
How much? Just measly 10 Euros! Tickets at the door.

Dr Sketchy No.41 is again presented by
HELD VODKA

Beloved Sponsor - We salute you!
RSS
NYC Events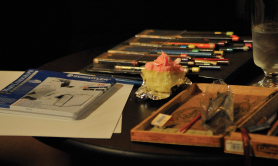 Art Tumblr