Branch profile - Christchurch, New Zealand
Dr. Sketchy's Christchurch
•

Christchurch, New Zealand

•

.(JavaScript must be enabled to view this email address)

•

Venue: Canterbury Bowling Club, 109 Salisbury St, Christchurch
---
Launching Dr Sketchy's in Christchurch was an idea conceived over a bottle of whiskey by mad performance artist and exhibitionist extraordinaire, Tawdry Trainwreck, and designer-cum-party-animal Rosie Reckless. This formidable pair are aided, abetted and documented by camera toting perv and anthropologist Paige Turner and a bevvy of helpful minions.
We're aiming to break the mould of conservative Christchurch and bring some much needed fun, flesh and frills to what just may be the most far flung branch of Dr. Sketchy's.
On a Thursday every 6 weeks, our art monkeys converge upon the local Bowling Club to transform it into a den of inequity! Sketch pads are out and glasses are drained as our audience sketches an array of debauched dames and burlesque beauties. The barman keeps the beer flowing as our stars pose on stage. Rosie keeps our audience out of line with a steady flow of puns and witticisms, while Tawdry struts about encouraging creativity and mischief. Paparazzi Paige documents the shenanigans for perving and posterity on the interwebs.
Dress ups are encouraged – this is not a spectator sport!
Schedule of Upcoming events
RSS
NYC Events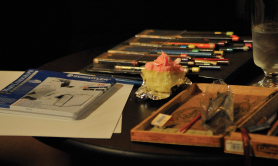 Art Tumblr
https://vimeo.com/81362468