Dr. Sketchy's London
•

London

•

.(JavaScript must be enabled to view this email address)

•

Venue: Various locations in London
---
Opening its doors in 2007 Dr. Sketchy's London is directed by Clare Marie and hosted by Dusty Limits - singer, comedian, compère and one of the leading figures in London's Cabaret scene.
Dusty hosts each class dispensing drawing tips, techniques and challenges along with his usual mix of saucy humour and darkly comic themes songs; meanwhile Clare is behind the scenes sharpening pencils, picking up clothes ripped off in the heat of burlesque passion and most importantly keeping Dusty's wine topped up.
Dusty Limits perfectly describes Dr. Sketchy's London as "life-drawing karaoke. There's no right or wrong - you don't go to karaoke because you're an amazing singer. You go to hang out with your mates and drink booze, and you get to express yourself creatively. In our classes, you're not allowed to erase, because that implies art has to be perfect".
No matter where you hang your hat in the big smoke a sketchy's close by: we salute the majesty of the Old Queens Head in Islington, go west for the heavenly Paradise in Kensal Green final we've shimmed south and crossed the river to the Royal Vauxhall Tavern.
Each night features sizzling burlesque and comic cabaret performances with life modelling from our performer/s and/or models. There's quick-fire sketching to get you going, with longer drawing sessions towards the end of each round so you can give your creative side a good seeing-to. Prizes include arts supplies, sugary treats and free tickets for future Sketchy's - as well as plenty of lovely libations to lubricate your pencil.
Paper are pencils provided, but you're more than welcome to bring your own sketchpads and try different media - the more outré the more we love you!
Tickets are £10 in advance from http://drsketchylondon.co.uk/
Become a fan on Facebook: http://www.facebook.com/londondrsketchy
Follow us on Twitter: http://twitter.com/drsketchylondon
Schedule of Upcoming events
RSS
NYC Events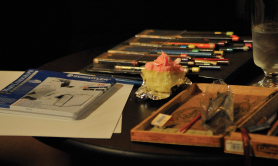 Art Tumblr
https://vimeo.com/81362468