Branch profile - Los Angeles, CA
Dr. Sketchy's Los Angeles
•

Los Angeles, CA

•

.(JavaScript must be enabled to view this email address)

•

Venue: 1121 Seward St, Hollywood, CA 90038
---
Sign up for our Email Newsletter
Dr. Sketchy's Los Angeles hosts figure-drawing events with top-notch models, refreshments, prizes, networking opportunities, and artistic inspiration… all wrapped up in a theatrical package.
First Tuesday of every month: Titmouse - 1121 Seward St, Hollywood, CA 90038
Dr. Sketchy's Los Angeles is presented by Baby Tattoo Books, an art and lifestyle company that publishes books and produces live events.
Bring your own art supplies. Photography is not allowed. Participants must be 18+.
Schedule of Upcoming events
Tue, January 07, 2014 • 11:00pm - Happy New Year
Why wait to start achieving your 2014 artistic goals… draw with us on the 2nd day of the new year.
RSS
NYC Events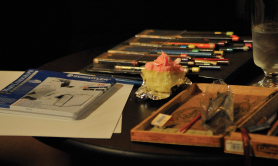 Art Tumblr
Art by me at dr. Sketchys seaside at the alternative cafe. I am Jacob Rafael Estrada
http://drsketchy.tumblr.com/post/69484943198