Branch profile - Montreal
Dr. Sketchy's Montreal
•

Montreal

•

.(JavaScript must be enabled to view this email address)

•

Venue: Montreal, QC, Canada
---
Dr. Sketchy est le petit événement de Brooklyn qui est devenu un mouvement international. Fondé en 2005 par l'artiste Molly Crabapple, Dr. Sketchy a posé une simple question. Pourquoi dessiner des gens ne pourrait pas être sexy?
La réponse de Dr. Sketchy fut un événement de modèle vivant avec des artistes burlesques, des danceuses et autres personnages costumés. En d'autres mots, Dr. Sketchy est l'endroit où l'art rencontre le cabaret!
Le mouvement est encore en grande croissance, avec des branches dans plus de 110 villes à l'échelle mondiale, incluant Londres, Paris, Tokyo, Melbourne et, bien sûr, Montréal.
Pour 10 $, vous pouvez enfin remplir votre cahier à dessin! Étudiants, artistes, simples curieux… vous êtes les bienvenus à l'anti école d'art du Dr. Sketchy de Montréal!
+++
Dr. Sketchy is the small Brooklyn event that became an international movement. Founded in 2005 by artist Molly Crabapple, Dr. Sketchy asked a simple question. Why can't drawing
people be sexy?
Dr. Sketchy's answer was a life drawing event with burlesque performers, dancers and other costumed characters. In other words, Dr. Sketchy is where art meets cabaret!
The movement is still booming, with branches in over 110 cities worldwide, including London, Paris, Tokyo, Melbourne and, yours truly, Montreal.
For $10, you'll finally be able to fill your sketchbook! Students, artists, curious people… you're all welcome at Dr. Sketchy's Anti-art School!
Schedule of Upcoming events
Sat, December 14, 2013 • 2:00pm - Santa's Naughty List avec/with MiMi Cherry
Séance #78 - Santa's Naughty List
Dr. Sketchy Montréal vous invite à son prochain événement : Santa's Naughty List. Venez dessiner la superbe MiMi Cherry et à vous de décider si elle a été sage ou non cette année!
La séance aura lieu le samedi, 14 décembre, de 14:00h à 17:00h au Théâtre MainLine, 3997, boul. St-Laurent. L'entrée sera de 10 $ et n'oubliez pas votre cahier à dessin.
Fait intéressant : L'éblouissante MiMi Cherry a paru sur la couverture de la revue Von Gutenberg!
***
Session #78 - Santa's Naughty List
Dr. Sketchy Montreal invites you to its next event: Santa's Naughty List. Come draw the awesome MiMi Cherry and decide whether she was naughty or nice this year!
The session will take place on Saturday, November 16, from 2:00 to 5:00 PM at the MainLine Theatre, 3997 St-Laurent Blvd. The cover will be $10 and don't forget your sketchbook.
Fun fact: The stunning MiMi Cherry was a cover girl for Von Gutenberg Magazine!
***
Commandité par / Sponsored by:
Baby Tattoo - www.babytattoo.com
Sat, January 11, 2014 • 2:00pm - Odette avec/with BonBon Bombay
Séance #79 - Odette

Dr. Sketchy Montréal vous invite à son prochain événement : Odette. Dans le cadre du Festival de danse Bouge d'ici, nous aurons le plaisir de dessiner la superbe BonBon Bombay qui nous transportera vers le Lac des cygnes.

La séance aura lieu le samedi, 11 janvier, de 14:00h à 17:00h au Théâtre MainLine, 3997, boul. St-Laurent. L'entrée sera de 10 $ et n'oubliez pas votre cahier à dessin.

Fait intéressant : BonBon Bombay a paru à l'émission télévisée The Dragon's Den!

***

Session #79 - Odette

Dr. Sketchy Montreal invites you to its next event: Odette. During the Bouge d'ici Dance Festival, we will have the pleasure of drawing the amazing BonBon Bombay who will us transport into the world of Swan Lake.

The session will take place on Saturday, January 11, from 2:00 to 5:00 PM at the MainLine Theatre, 3997 St-Laurent Blvd. The cover will be $10 and don't forget your sketchbook.

Fun fact: BonBon Bombay appeared on the TV show The Dragon's Den!

***

Commandité par / Sponsored by:
Boude d'ici - www.bougedici.com
RSS
NYC Events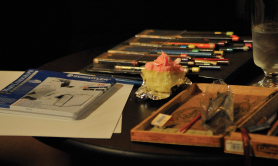 Art Tumblr
The results of tonight's Dr Sketchy's session :D
http://drsketchy.tumblr.com/post/69489605480