Branch profile - Nashville, TN
Dr. Sketchy's Nashville
•

Nashville, TN

•

.(JavaScript must be enabled to view this email address)

•

Venue: The 5 Spot 1006 Forrest Avenue Nashville, TN 37206
---
Dr. Sketchy's is what happens when cabaret meets art school. Dr. Sketchy's is the little Brooklyn event that became a movement. Founded in 2005 by artist Molly Crabapple.
Dr. Sketchy's now has over 110 branches around the globe, including Hollywood, London, Tokyo, Rome, Melbourne and Nashville.
Dr Sketchy's Nashville is on the THIRD SUNDAY of every month at The 5 Spot from 6-9pm!
We will have gorgeous women in spectacular costumes! Then we let you draw them for three hours! Grab a seat, Grab a drink, Listen to some tunes and Draw, Draw, Draw!!!
$10 at the door
Mixed in with all that will be unique drawing contests where you can fun and fancy prizes from local retailers.
The point is this isn't your typical life drawing class. Here, the drawing sessions are about opening your mind, pushing the envelope, encompassing the model's personality and uniqueness, fun contests and having a fun time. It's also about joining various aspects of our city's culture to benefit of everyone!
Dr. Sketchys Nashville even represented the Dr. Sketchy Empire at the 2012 Bonnaroo Music & Arts Festival! We provided the opportunity to create art to everyone in attendance at the festival. We held nightly sessions in The Academy Tent. Every session was packed with happy art monkeys and beautiful models. Dr. Sketchys Nashville will be back at The Bonnaroo Music & Arts Festival in 2013 with more Sketchy fun!
**(please note Dr Sketchys Nashville will be at The Bonnaroo Music & Arts Festival every June at The Academy Tent - Look for us there)**
Follow us online:
Facebook: http://www.facebook.com/DrSketchysNashville
Twitter: twitter.com/DrSketchysNash
Flickr: http://www.flickr.com/photos/drsketchysnashville/
Schedule of Upcoming events
RSS
NYC Events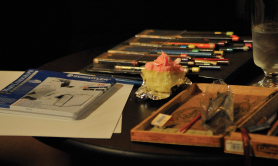 Art Tumblr