Branch profile - Oklahoma City, Ok
Dr. Sketchy's Oklahoma City
•

Oklahoma City, Ok

•

.(JavaScript must be enabled to view this email address)

•

Venue: The Boom 2218 NW 39th
---
Some info from an article in "The Oklahoman":
"It's where life drawing meets cabaret," said Marilyn Artus, who is the former owner of the Dr. Sketchy's Oklahoma City franchise. "We have a beautiful flamboyant model with costumes and props. They can be a side-show performer, a burlesque model, a singer, you know, just people that are kind of outrageous and have big personalities." At Dr. Sketchy sessions, artists of all skill levels from coloring book aficionados to full-fledged professionals meet to have a rip-roaring good time.
What makes these life-drawing sessions so much fun? Well, a full bar never hurts. Nor do wacky contests such as who can create the best sketch using Cheese Whiz while Hula-hooping or linked in to a conga line. "It just creates such a fun environment," Artus said.
But don't get the wrong idea. Dr. Sketchy's events can be serious, too. In between all the shenanigans, artists have several 20-minute sessions to sketch the beautiful models who change costumes four times. "It's just a lot of fun for people who are maybe out of art school and aren't creating with other people anymore, for them to come back in and be in an environment creating with other people," Artus said.
Schedule of Upcoming events
RSS
NYC Events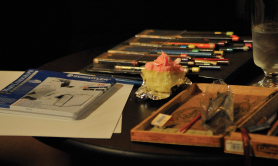 Art Tumblr
Dr Sketchy's LA 12/3/13 (pt. 1)
artofach.blogspot.com
http://drsketchy.tumblr.com/post/69132640329