Branch profile - San Francisco, CA
Dr. Sketchy's San Francisco
•

San Francisco, CA

•

.(JavaScript must be enabled to view this email address)

•

Venue: 3359 Cesar Chavez St
---
In San Francisco, we have a strong commitment to community. We believe that making art is about finding a great place to practice, with a community of like-minded folks. We celebrate our sometimes indescribable and important local culture. We get excited about our models and we hope that our excitement inspires the artists who attend.
Dr Sketchy's is USUALLY every 1st & 3rd Tuesday. Please see dates below.
Venue: Chicken John's warehouse
Caesar Chavez. 3359 Cesar Chavez St. SF
Map: http://goo.gl/maps/QCBKF
Click on this link to sign up for our mailing list: http://tinyurl.com/http-tinyurl-com-SFMailChimp
Facebook group: http://www.facebook.com/?ref=logo#!/group.php?gid=59714503350
Twitter: http://twitter.com/drsketchysf
Please see Freak the Mighty photography: http://www.freakthemightyphotography.com/
Schedule of Upcoming events
Tue, January 07, 2014 • 7:00pm - Dr Sketchy's presents Eva Von Slut!
at Chicken John's Warehouse
More info to come.
Tue, January 21, 2014 • 7:00pm - Dr Sketchy's presents Vivian de Milo!
at Chicken John's Warehouse
photo by Pam Palma
Tue, February 04, 2014 • 7:00pm - Models TBA
at Chicken John's Warehouse
Tue, February 18, 2014 • 7:00pm - Models TBA
at Chicken John's Warehouse
Tue, March 04, 2014 • 7:00pm - Models TBA
at Chicken John's Warehouse
Tue, March 18, 2014 • 7:00pm - Models TBA
at Chicken John's Warehouse
RSS
NYC Events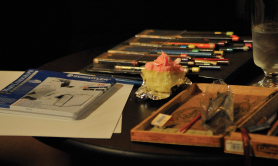 Art Tumblr
Dr Sketchy LA 12-3-13
http://drsketchy.tumblr.com/post/69027079376