In honor of the Celebration V event, our lovely Model Ana will be premiering two new costumes just for us. She might also be bringing a special guest, so don't miss out tonight! here's a little peek from the fine photographers at Dim Horizon studio:
Remember it's 10$ to draw,...
Read Full Article
Don't forget about our next event with the fabulous Ana Aesthetic! She'll be back gracing our stage on Monday August 9th, 8pm at the infamous Clermont Lounge! Check our events section for more details. To whet your whistle, here are a few photos from her last visit, when she played a...
Read Full Article
RSS
NYC Events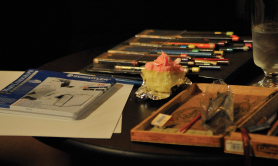 Art Tumblr
https://vimeo.com/81362468