Branch Blog - Kansas City
Kansas City Roller Warriors come to kick off the 4th season of Dr. Sketchy. Annie Maul and friends are here to rock your socks off. DJ Cyan spinning tunes, Heather Hands with delicious treats and lively libations to welcome you back.
We will be taking a field trip the the Leedy-Voulkous Art Center for this American Icon exploration.
RSS
NYC Events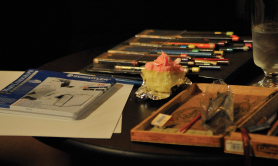 Art Tumblr
Dr Sketchy's LA 12/3/13 (pt. 1)
artofach.blogspot.com
http://drsketchy.tumblr.com/post/69132640329