Branch Blog - Minneapolis, MN
Wonderful event featuring Chicago Starlette, Cherokee Rose. In addition to some fantastic work we discussed the Webster definition of the word Burlesque and cultural appropriations. Cherokee spoke about her heritage and her intention behind her act with is a parody on Native American...
Read Full Article
Hello!
Wow another great session and turn out! Lots of people new to Dr. Sketchy's and some truly amazing work. Lula Houp-Garou was a complete darling and gave us some fantastic lines. We were blown away by her light up Jelly Fish hula-hooping act. This was clear artist by seeing the work...
Read Full Article
RSS
NYC Events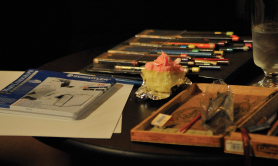 Art Tumblr
Dr Sketchy LA 12-3-13
http://drsketchy.tumblr.com/post/69027079376