Branch Blog - Santiago, Chile
¡Porque Chile tiene Dr.Sketchy! Chile celebrates 200 years from its independece, so Dr.Sketchy Santiago its gonna party with glorious poses, drinking and games. Loreto Aravena (very known actress that is very pretty and smells really nice), will be posing in typical chilean outfits....
Read Full Article
I art Style es un colectivo de Artistas, Maquilladores y Peluqueros, que se encargan de la parte estética de las modelos. Nos ayudan con el maquillaje y el peinado, y además, instalan su propia mesa con tatuadores que están haciendo su propio show durante toda la sesión. Son unos...
Read Full Article
RSS
NYC Events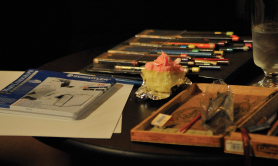 Art Tumblr