Branch Blog - Saskatoon, Saskatchewan
The Dr. Sketchy's sessions at Lugo were a huge hit! The models were beautiful, and we made a lot of new friends. Check out the evidence in the photo gallery!
Our theme, to show off the range of our usual sessions, was "Frills and Chills." We featured the opposing forces of naughty...
Read Full Article
RSS
NYC Events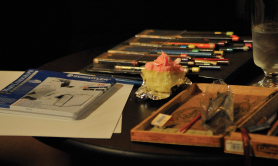 Art Tumblr
https://vimeo.com/81362468