Branch Blog - Honolulu, HI
Honolulu and The Arts at Marks Garage hosted two events with us earlier this month. Show casing the talented artists of The ChinaTown Artists Lofts and Dr. Sketchy's Honolulu.
We would like to thank Katharine Rita, Michelle Jericho Popplar, Rich Richardson and The Arts at Marks...
Read Full Article
Dr. Sketchy's Anti-Art School
The Honolulu Branch brings you our first session of the new year. Post Apocalypse- our Devastatingly beautiful models will keep your attention for 2+ hours of drawing pleasure.
Doors @ 7pm-10pm
$5Drink
$7Drink&Draw
Read Full Article
RSS
NYC Events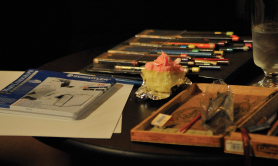 Art Tumblr
Dr Sketchy's LA 12/3/13 (pt. 1)
artofach.blogspot.com
http://drsketchy.tumblr.com/post/69132640329