Branch Blog - Victoria, BC. Canada
November 13, 2013 was the happy reunion between Dr. Sketchy and the city of Victoria and as predicted, they proved to be a raucous pair.
Artists lost their inhibitions, models lost their clothes and we lost our hearts to Victoria's artistic community who can rock and draw...
Read Full Article
3 models = 3 times the fun
November 13, 2013
Dr. Sketchy's Victoria is gearing up for a great summer of dabbling, drinking and drawing! Summer dates are: June 20th, July 18th, August 15th and September 19th. We offer two seatings: 5:30PM - 8:00PM and 8:30PM - 11:00PM, tickets are $10 and can be reserved in advance or purchased at...
Read Full Article
Victoria's Dr. Sketchy's second session was a blast! Check us out on Chek TV's News.
The Superior Cafe's host Victoria's next Dr. Sketchy's on March 21st, don't miss it!
http://www.youtube.com/watch?v=YBq0fXuGQNs&feature=youtu.be
RSS
NYC Events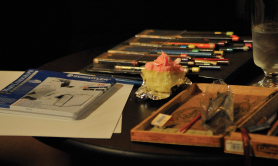 Art Tumblr
Dr Sketchy LA 12-3-13
http://drsketchy.tumblr.com/post/69027079376