Branch Blog - Winnipeg, Manitoba
Dr Sketchy's will be at Keycon 28 this month. Come join us, we'll be at the Radisson hotel downtown with all the SciFi fans!
While we were plotting our next event for March 29, 2011, we were invited to attend a little meeting. We are pleased to announce that we have been invited to Keycon for our May event. Please check out thier website. http://www.keycon.org/index.html The May event will be held on the...
Read Full Article
RSS
NYC Events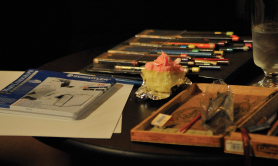 Art Tumblr