Branch profile - Boston, MA
Dr. Sketchy's Boston
•

Boston, MA

•

.(JavaScript must be enabled to view this email address)

•

Venue: boston, ma
---
The Boston branch started on Sunday February 11, 2007 at the very location it is today: Great Scott in Allston. Boston has a fabulous drag. burlesque and performance art scene and we draw from them for our models. Occasionally we'll have a lovely model from out of town, as well.
There is a diverse crew of artists and everyone is super friendly. I'm the one greeting everyone, taking your money, and running the show. So come say "hi."
Check us out at http://www.truthserum.org and there's video of Norris and some models at http://www.youtube.com/truthserumproduction
We're not so great about updating this here blog (sorry Molly!) ...things disappear! We're artists, not technologists! Look up our events at http://www.truthserum.org and get the details there. Or remember:
Every Second Sunday from 2:30-5:30 pm. at Great Scott 1222 Commonwealth Ave Allston, MA at the corner of Harvard Ave. The B line T is right there! $8
and a new evening!
Every fourth Tuesday Night 7:30-9:30 (or sometimes a little later) at Club Cafe 209 Columbus Ave in the South End of Boston. right near the Back Bay Orange line T. $8
dates:
Sunday July 10
Tuesday July 26
Sunday Aug 14
Tuesday Aug 23
Sunday Sept 11
Tuesday Sept 27
and on and on and on!
Schedule of Upcoming events
RSS
NYC Events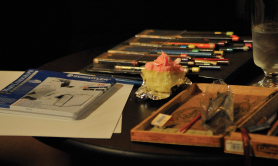 Art Tumblr
Dr Sketchy's LA 12/3/13 (pt. 1)
artofach.blogspot.com
http://drsketchy.tumblr.com/post/69132640329