Branch profile - Grand Rapids, MI
Dr. Sketchy's Grand Rapids
•

Grand Rapids, MI

•

.(JavaScript must be enabled to view this email address)

•

Venue: Sazerac Lounge 1418 Plainfield Ave NE, Grand Rapids, MI, 49505
---
Dr. Sketchy's Grand Rapids, Michigan was launched in June 2009 by headmistress Vivacious Miss Audacious of Super Happy Funtime Burlesque, Shimmy Shack Burlesque, Audacious Hoops and the Atomic Hoop Troupe.
An eclectic lineup is featured each month and past models include drag queens, stilt walkers, aerialists, gun slingers, roller derby girls, zany performance artists and of course, gorgeous burlesque dancers.
The Grand Rapids branch has a loyal following and continually attracts new artists and models from Michigan and beyond!
Find us on Facebook, Tumblr and http://www.vivaciousmissaudacious.com
Schedule of Upcoming events
RSS
NYC Events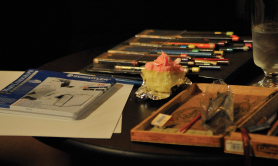 Art Tumblr