Branch profile - Las Vegas, NV
Dr. Sketchy's Las Vegas
•

Las Vegas, NV

•

.(JavaScript must be enabled to view this email address)

•

Venue: The Artifice is located at 1025 First Street. Las Vegas, NV 89101
---
Las Vegas Dr. Sketchy's Anti-Art School was started in 2008 by Burlesque performer Cha Cha Velour when the branch premiered at the yearly Burlesque Hall of Fame Weekender. Cha Cha no longer is the principal of LV Sketchy's. Michele Hengeveld has taken over as principal as of Summer 2011.
Our sessions are held the third Thursday of every month from 8pm-11pm at ARTIFICE located in the quickly ever growing and popular downtown art scene.
Occasional we hope to hold special sessions throughout the months in addition to our monthly scheduled class at the Artifice.
Schedule of Upcoming events
RSS
NYC Events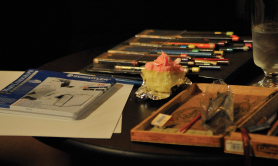 Art Tumblr
The results of tonight's Dr Sketchy's session :D
http://drsketchy.tumblr.com/post/69489605480