Branch profile - Lima, Peru
Dr. Sketchy's Lima
•

Lima, Peru

•

.(JavaScript must be enabled to view this email address)

•

Venue: Lima, Peru
---
Dr. Sketchy's Lima is run by Patricia Villanueva. She has been a professional visual artist since 1998 and hasn't stopped working since. Her work centers on themes related to Identity and self-discovery and for this she has created a number of alter egos to play around (this include a Tattooed Circus Lady, a grown-up Alice and a Woman with the head of a raven.)
She is also a Visual Arts IB Diploma teacher and a curator of projects for several Cultural Centers and Art Galleries in Lima, Perú.
Patricia is also, and not less importantly, a slow tattoo collector, a pin-up worshiper and a passionate researcher on the creative process.
She is a devoted believer in the "sketching" discipline and has decided (so she says) to make you a believer too.
:::::::::::::::::::::::::::::::::::
Dr. Sketchy's Lima es dirigido por Patricia Villanueva. Es Artista Visual profesional desde 1998 y no se ha detenido desde entonces. Su trabajo se centra en temas sobre Identidad y auto-descubrimieno y debido a esto ha ido creando un número de alter-egos con los que divertirse (estos incluyen a una Mujer Tatuada de Circo, una Alicia adulta y una Mujer con Cabeza de Cuervo. )
Es además profesora de Artes Visuales del Diploma del BI y ha sido curadora en proyectos para diversos Centros Culturales y Galerías de Arte en Lima, Perú.
Patricia es además, y no por lo tango menos importante, una lenta coleccionista de tatuajes, idólatra de pin-ups y apasionada investigadora del proceso creativo.
Ella es una devóta creyente de la disciplina del "sketch" y ha decidido (eso dice) convertirte en creyente.
Schedule of Upcoming events
RSS
NYC Events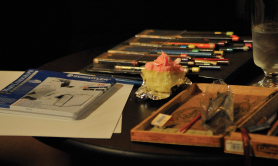 Art Tumblr
Dr Sketchy's LA 12/3/13 (pt. 1)
artofach.blogspot.com
http://drsketchy.tumblr.com/post/69132640329