Branch profile - Melbourne, Australia
Dr. Sketchy's Melbourne
•

Melbourne, Australia

•

.(JavaScript must be enabled to view this email address)

•

Venue: The Toff in Town Curtain House 2/252 Swanston Street Melbourne
---
"Dr. Sketchy's will cure you of every boring art class you've ever been to."
- The Sunday Age, Melbourne
Throughout history artists have paid beautiful courtesans to sit for their most intimate works.
Lautrec, Klimt, Schiele, the list goes on. Now, you can join them…
Part art class, part cabaret, all fun. Join us for 2 hours of drinking, drawing and decadence.
From humble beginnings…
Dr. Sketchy's is the little Brooklyn event that became a movement. Founded in December 2005 by artist, model, and occasional burlesque performer Molly Crabapple. Tired of the sterile buttoned-up art classes she posed for, Molly envisioned a life-drawing class that was decadent, sexy, relaxed with stellar treatment for models and boozy fun for all.
Present day…
What started as a little event in New York has now spread to over 150 cities across the globe. Melbourne is proud to be the first International and longest running Dr Sketchy's branch outside of the New York HQ.
Director Mel Knight has succesfully run Dr Sketchy's Melbourne every month for over 6 years and had the session appear at festivals including MIDSUMMA, Boogie, Rites of Passage Tattoo & Body Art festival, and the only Dr Sketchy's branch to appear inside the magical travelling Famous Spiegeltent - for 2 years and counting.
In 2010 Mel travelled to New York to speak at the 2nd International SketchyCon http://www.kickstarter.com/projects/mollycrabapple/fund-sketchycon-2010-an-international-conference/posts/6411
Dr.Sketchy's is for everyone, no previous artistic ability required as long as you're prepared to have a good time. We're all about bringing the creativity out in you and having a good time. Have a drink, bring a sketchpad, a pencil and your enthusiasm.
LAST Sunday of each month
4.00 - 6.00pm Doors at 3.30pm
Tickets $18 http://www.moshtix.com.au or on the door
The Toff in Town
Curtain House 2/252 Swanston Street
Melbourne
http://www.thetoffintown.com/
BRING YOUR SKETCHPADS!
Schedule of Upcoming events
RSS
NYC Events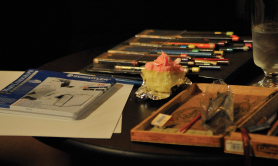 Art Tumblr
https://vimeo.com/81362468