Branch Videos - Philly, PA
Videos
​We had a spectacular time at the Philadelphia Museum of Art on Mischief Night! Huge thank you to The Comic Station and Katie Horstman for putting this glimpse of the evening together!
Dr. Sketchy's Philly teamed up with Celeste Giuliano Photography to bring together sexy pin-up models and artists for the Centerfold Academy. It was a night of drawing, dames and drinking where artists could pretend to be Elvgren or Varga sketching that perfect pin-up. Become a fan of Celeste Giuliano Photography: www.facebook.com/celestegiulianophotography Video by Robot Mouse, http://goo.gl/RUoEd or youtube.com/MrRobotMouse Dr. Sketchy's: https://www.facebook.com/drsketchysphilly Blick Art supply: http://www.dickblick.com/
Fantastic Video shot by the suave (and super cute) Bryan Patrick Francis Mead of last months Mad Men session! Music from Dj Danny Borneo of the Olde City Sideshow. Models Little Darling, Cowboy Dave and Rob Paluso/Anita Manhattan
What a fantastic session! Thank you Bryan for putting this together! Our models Little Darling of Pinups for PitBulls, Rob Paluso/Anita Manhattan of Philadelphia Gay Bingo and the super suave, Cowboy Dave! Danny Borneo of Olde City Sideshow nailed (hehee) the music. Pictures will be up soon! See you next month for Steampunk Sketchy's with the Peek a Boo Review!
RSS
NYC Events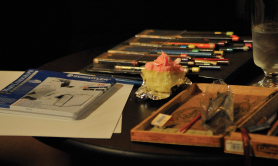 Art Tumblr
Art by me at dr. Sketchys seaside at the alternative cafe. I am Jacob Rafael Estrada
http://drsketchy.tumblr.com/post/69484943198