Branch Videos - Millville, NJ 08332
Videos
After having a video created of our very first session, we started brain storming with our videographer, Tamagnista Video Solutions. Although some of the ideas generated were slightly far fetched and would require a production crew, props and scenery the like of which high-budget films are made of, we still came up with some good ideas that our budget could handle...FREE:) This video is a compilation of various sessions with interviews with each of our models. The concept was to provide the general public an idea of what we are all about... a little behind the scenes if you will. This video is a great sneak peek into what is going on during the sessions and we hope you enjoy!
We were so excited to host our very first session of Dr. Sketchy's, in what now feels so very long ago. We still get very excited for each session. You never know what the model has in store, you don't know who is going to show up, or what mayhem will ensue. Compared to other sessions in the past, our first was rather tame, but still totally awesome. I wouldn't have been able to pull it off without the help of my 2 fantastic models, Hot Rod Hussy and Victoria Nessa. Special thanks also goes to Tamagnista Video Solutions for donating their extraordinary videography talent. Please for you to enjoy:)
Thanks for checking out our video blog. We have some pretty awesome videos to share, but are in the process of updating/moving some info around on our original Dr. Sketchy pages. So please bear with us until we have all the links set back up. Cheers!
RSS
NYC Events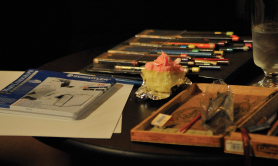 Art Tumblr
https://vimeo.com/81362468