Branch Videos - Denver, CO
Videos
Vanessa Heart brings the Art of the Pinup, including my favorite Art Frahm and his proclivity for ladies losing their undies!
Shotza Ouzo and Chalita Bang Bang bring the holiday spirit!
The Fabulous Whoopsie Daisy!
Thanks to La Petite Mort and Anabella Lafontaine for bringing the grim and the gore!
Pepper Palermo and Shotza Ouzo played various villains and heroes in September, for our last session at the KBDI Studios.
Awesome profile on Dr. Sketchy's from 9News
RSS
NYC Events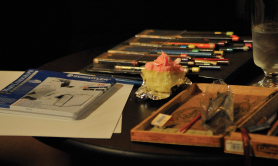 Art Tumblr
Dr Sketchy's LA 12/3/13 (pt. 1)
artofach.blogspot.com
http://drsketchy.tumblr.com/post/69132640329