Wed, February 29, 2012 • 1UP
Nous avons continué notre saison 2012 avec 1UP, le 25 février. Notre modèle fut la succulente Sucre à la Crème, qui a posé pour nous lors de cet événement inspiré des jeux vidéo vintages!
***
We continued our 2012 season with 1UP on February 25. Our model was the succulent Sucre à la Crème, who posed during this event inspired by vintage video games!
Pour visionner le blogue complet de la session, visitez : Dr. Sketchy Montréal
***
To view the full session blog, visit: Dr. Sketchy Montreal
RSS
NYC Events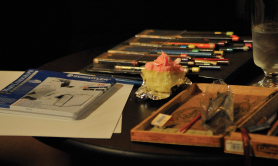 Art Tumblr
The results of tonight's Dr Sketchy's session :D
http://drsketchy.tumblr.com/post/69489605480