Branch Blog - North Wales
Fri, December 24, 2010 • A Darkteaser Christmas Delight!
...and a very merry start to the Christmas was had by all... well all that could make it in. The snow kept many away but then there were more mince pies, mulled wine, cherry shots and prizes to give out! Darkteaser came melting not only the snow with a sensational Regal act - she was our Queen for the evening for sure! Had a few newbies attend as well as those who came to our first one. Our poor photographer couldn't make it as he had taken an impromptu glide across some ice so our intrepid Sketcher monkeys were only too happy to get up close and personal. We played the usual games as well as some festive ones - and even had a Sexy Christmas Card round! Wonder who you'll send yours too? A glorious end to the night saw Darkteaser change into a beautiful ice maiden with fluttery bits of snow from her feathered fans - she treated us to a White Christmas act blowing us all a kiss and a wink. Looking forward to seeing you all in 2011! I've got some great models and performances lined up ready to strike some fierce posing to get your creative on! Thanks to all that came on Friday, I know people were upset not to make it in but we're back in February - we'll see you there x
As always check out the
Dr. Sketchy North Wales Flickr Page
for more pics!
RSS
NYC Events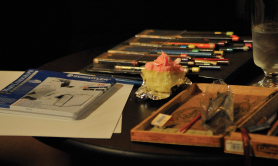 Art Tumblr
https://vimeo.com/81362468