Branch Blog - Charleston, West Virginia
Thu, March 24, 2011 • A Little Bit Country, and a Little Bit Rock N' Roll
Dr. Sketchy's Charleston kicked off with a bang in March at the World Famous
Empty Glass
! As a nod to our new home we went with a Country vs. Rock rivalry of the talented Pepper Fandango and Conway Titty! The fantastic Pepper Fandango started us off for the night. However, Conway Titty is not one for being outdone.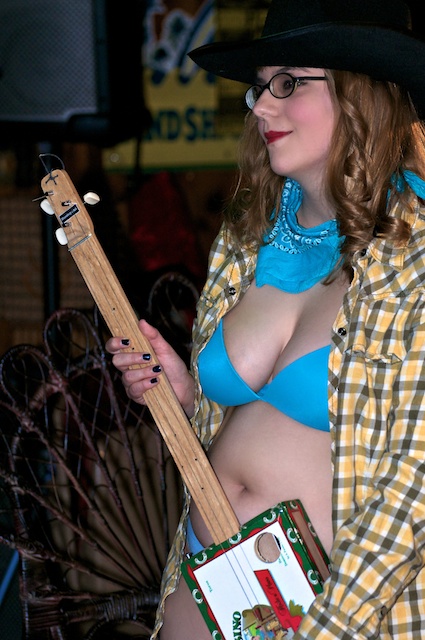 Our first contest of the evening was to draw Conway as a Wanted poster in ten minutes.
And the audience delivered with a glimpse into Conway's sordid past in Liberty City!
And what a wonderful crowd of artists, we had. We couldn't have done this without. I could hardly recognize the place with all us in there.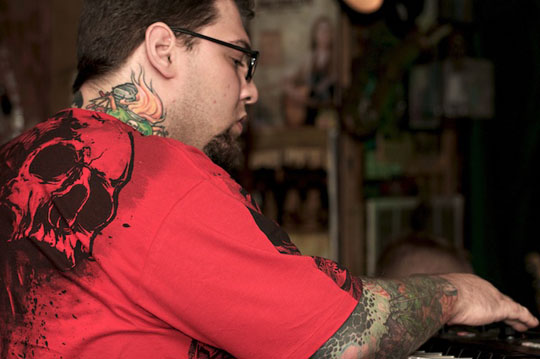 And of course, I want to give a shout out to
David Synn
and the Elvis Presley Murder Files with their musical stylings behind the curtain.
Then we moved on to Pepper and Conway posing in Tandem.
We then did our first twenty minute pose of the night, and our second contest! The goal this time was to switch their costumes.
One lucky man did this literally and came away with a copy of Dr. Sketchy's Rainy Day Activity book!
Pepper and Conway went their separate ways for the rest of the night, but they took away that each of them have a little bit of country and punk on the inside.
We had a killer night and can't thank everyone enough for being there. An extra thanks goes out to
Amethyst Moon Salon and Mini Spa
for doing the gals' hair and make-up. As well as
Stray Dog Antiques
for loaning us props and set dressing. We hope to see everyone back in
April
.
RSS
NYC Events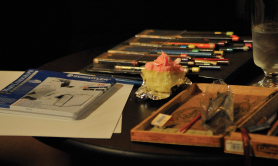 Art Tumblr
Dr Sketchy LA 12-3-13
http://drsketchy.tumblr.com/post/69027079376