Branch Blog - Northampton, MA
Thu, March 07, 2013 • A very Krampus Christmas!
Last Christmas, we celebrated with the Krampus- a wonderful, magical creature who brings Christmas joy and... nah, he just tortures people with whips if they've been bad. Speaking of bad, one of our lovely models, an aspiring journalist looking for a scoop, tried to get photographic proof of Santa- oh no! What followed was a crazy bunch of drawings for our audiences pleasure!
Since we've started we've wanted to do a Sketchy's where one of the models was a monster, and this didn't disappoint! Head over to our event photos page for a look, won't you?
RSS
NYC Events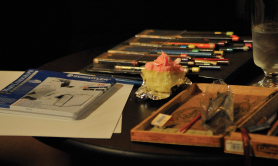 Art Tumblr