Sat, December 08, 2012 • An urgent plea to help save the MainLine Theatre
This week, Dr. Sketchy Montreal's team was very sad to find out that the MainLine Theatre, a non-profit indie theatre and our Dr. Sketchy venue, is in danger of closing its doors.
They have launched a fundraiser and we are trying to help them in any way that we can. They have supported us greatly over the last five years, as well as countless other artists, both local and international. For a long time, the MainLine Theatre was Montreal's top burlesque venue.
You can help save the MainLine by reposting this link and/or by making a donation at Canada Helps. You can also find the fundraiser on Facebook.
We thank you in advance for any support you can give!
RSS
NYC Events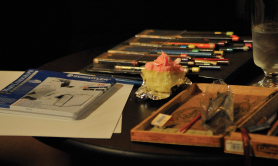 Art Tumblr
Dr Sketchy's LA 12/3/13 (pt. 1)
artofach.blogspot.com
http://drsketchy.tumblr.com/post/69132640329