Branch Blog - Victoria, BC. Canada
Sat, January 21, 2012 • Appearing this month: Eva Destruction
Coming to Dr. Sketchy's this Wednesday? So is EVA DESTRUCTION, our wonderful model for January!
About Eva: Eva hatched back in the days before video games only had 2 buttons and has since excelled at pressing as many of them as she can. An expert in 14 different forms of verbal martial arts, Eva has fought her way around the linguistic world and proven herself to the Dahlia Llama of Kung Fu. She has worked in the best gorlesque show in Victoria and in her spare time stitches clouds together.
Eva will be sporting custom fashion by Sideshow Sam. Get down to The Superior Cafe on Wednesday, grab a beer & draw with us!
http://www.facebook.com/photo.php?fbid=172655139507365&set=a.167337520039127.29114.162693433836869&type=3&permPage=1
RSS
NYC Events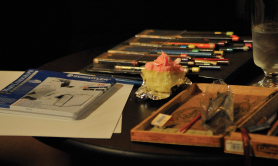 Art Tumblr