Branch Blog - Indianapolis, IN
Tue, May 01, 2012 • April Dr. Sketchy's Indianapolis with Pepper Mills from Angel Burlesque.
What can we say about this lady? We love her. Beautiful, fun, and great personality. Our art monkeys in Indy are in love with her now too.
This is my #1 Seann, isn't he lovely? He is single ladies!
This is Ginger Peach, also from Angel Burlesque, about the cutest thing on two legs.
Thanks to everyone that came out to make this a huge success and thanks to Holy Cow cupcakes in carmel for giving us cupcakes for all the art monkeys! AND of course thanks to our regular sponsor Hero House comics and our permanent home The Sinking Ship!
RSS
NYC Events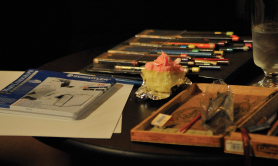 Art Tumblr
Dr Sketchy's LA 12/3/13 (pt. 1)
artofach.blogspot.com
http://drsketchy.tumblr.com/post/69132640329