Branch Blog - San Francisco, CA
Fri, April 29, 2011 • April in San Francisco was Outstanding
Diane and I were Blessed by Sister Jezabelle for creating community. <3
Sisters Mary Juanita High, Sharin' Dippity and Jezabelle kept us laughing, drawing and gasping the entire evening.
We learned about the female condom!
And we drew homage to the Sisters' Easter celebration, complete with a Hunky Jesus.
Our Speakeasy was enticing.
Lury was smokey and alluring.
Mark won both contests! He drew Lury in an ad for hooch because he's a good ol' Anti-Prohibitionist. See more photos from the fabulous Johnny Crash on our photo page!
http://www.drsketchy.com/branch/photo_gallery/SanFran
Draw with you in May! xoxo, Alice and Diane
RSS
NYC Events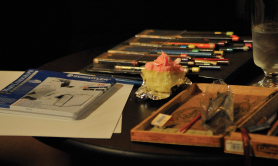 Art Tumblr
The results of tonight's Dr Sketchy's session :D
http://drsketchy.tumblr.com/post/69489605480