Fri, April 13, 2012 • Around the World avec/with Cherry Typhoon
Session #57 - Around the World
Dr. Sketchy Montréal vous invite à sa prochaine séance : Around the World! Préparez vos passports et crayons pour dessiner la magnifique Cherry Typhoon. Suivez la alors qu'elle se dévêtit lentement autour du globe!
La séance aura lieu samedi, le 28 avril, de 14:00h à 17:00h au fabuleux Théâtre MainLine, 3997, boul. St-Laurent. L'entrée sera de 10 $ et n'oubliez pas votre cahier à dessin!
De plus, lors de cet événement, nous tiendrions un concours spécial vous donnant l'occasion de gagner le nouveau livre de Molly Crabapple, artiste et fondatrice de Dr. Sketchy, intitulé Week in Hell!
Fait intéressant : Ayant relocalisée de Tokyo à Montréal, vous pouvez souvent voir Cherry Typhoon dessiner à nos ateliers mensuels!
***
Dr. Sketchy Montreal invites you to its next session: Around the World! Get your passports and pencils ready to draw the wonderful Cherry Typhoon. Follow her as she slowly strips down around the globe!
The session will take place on Saturday, April 28, from 2:00 to 5:00 PM at the fabulous MainLine Theatre, 3997 St-Laurent Blvd. The cover will be $10 and don't forget your sketchbook!
Furthermore, during this event, we will hold a special contest allowing you a chance to win the latest book by Molly Crabapple, artist and Dr. Sketchy's founder, titled Week in Hell.
Fun fact: Having relocated from Tokyo to Montreal, you can often see Cherry Typhoon sketching away at our monthly sessions!
***
Commandité par / Sponsored by
Kitsch'n Swell - kitschnswell.ca
Baby Tattoo - www.babytattoo.com
RSS
NYC Events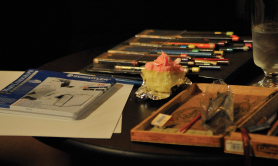 Art Tumblr
https://vimeo.com/81362468