Fri, October 14, 2011 • "Art is Social" Dr.Sketchy's Philly at the Delaware Art Museum Tonight!
Friday, October 14 | 8 – 11 p.m.
$5 entry fee | Free beer & wine tasting | $1 - $4 drinks
Mix up your social scene and head to the Delaware Art Museum for a night of free beer and wine tasting, salty snacks, experimental DJs, burlesque entertainment, and of course, art! Check out magazine illustrations by famed local artist and illustrator Howard Pyle and then try your hand at sketching some burlesque models clad in period costumes from Dr. Sketchy's Philadelphia! Never picked up a pad and pencil? Don't worry, all amateurs are welcome (or if you just want to stand around and stare that's okay too). Oh, did I mention that we'll have $1 - $4 drinks AND that we're within walking distance of Trolley Square?
Can't wait to RSVP? Click here to register, and flash your printed confirmation receipt at the door for faster entrance. https://www.signup82north.com/beventLive.aspx?EventID=NBI87018720
Not sure and want to know more? Call 302.351.8520, email [email protected] or keep an eye out for more info in Out and About Magazine and Spark Weekly. Learn more about Dr. Sketchy at drsketchyphilly.com
Beer and wine courtesy of Frank's Union Wine Mart. Out & About Magazine is a marketing partner. And they both rock.
Photo of Cecilia DeVille by Kencredible
Design by Nicola Black LLc
RSS
NYC Events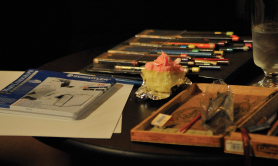 Art Tumblr