Branch Blog - San Francisco, CA
Mon, August 01, 2011 • Back to the Burlesque in August!
We bring it BACK to the Burlesque this month at the Dr Sketchy's in the San Francisco. For those of you who like to draw the sexay, these drawing events are for you!
Dr Sketchy's Anti Art School: San Francisco presents Alotta Boutté Alotta Boutté is a high glam burlesque beauty. She is a dream to draw and a Dr Sketchy's SF favorite. We are so looking forward to this! --------------- Tuesday August 23rd, 2011 7-10pm 21+ $12 general admission. $10 students/teachers 111 Minna Gallery, 111 Minna St, SF ---------------
Dr Sketchy's Anti Art School: San Francisco presents Wigged Out, with Kitten on the Keys Kitten on the Keys is a notoriously sassy Burlesque personality in the Bay Area and Beyond. She's a star of the stage and screen, and for this event she's going to bring on the WIGS. Bring your best wig drawrrring implements for this one. --------------- Saturday August 27th, 2011 5-8pm 21+ $12 general admission. $10 students/teachers 111 Minna Gallery, 111 Minna St, SF
RSS
NYC Events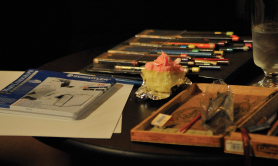 Art Tumblr
The results of tonight's Dr Sketchy's session :D
http://drsketchy.tumblr.com/post/69489605480