Branch Blog - Corpus Christi, TX
Tue, September 03, 2013 • Better late than never…
We finally got our ink and charcoal-covered fingers on photos from our very first session which took place in May at our venue House of Rock. Thank you to MDPhotography!
On May 19th, 2013, we were proud to feature the founder and co-producer of premier local burlesque troupe The After Dark Revue. Rosie Rawhyde became the seductress in our "Do Not Disturb" set.
Always a local fave, Rosie's fans enjoyed an entertaining afternoon sketching her. It was indeed a great debut!
We're coming up on our fifth session this month!
RSS
NYC Events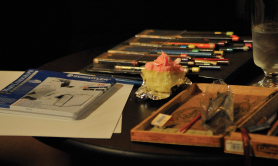 Art Tumblr
Dr Sketchy LA 12-3-13
http://drsketchy.tumblr.com/post/69027079376