Branch Blog - Corpus Christi, TX
Miss Kitty No Pity likes to rock!
Dr. Sketchy's in Corpus Christi, TX presents the very first Rock n' Roll session series on November 18th.
The Twisted Carnival is the first in a series of twisted imaginings inspired by visits to the carnival and even the circus.
Monday, October 21st 2013. 6:00pm
House of Rock - 511 Starr St. Corpus Christi, TX 78401.
We finally got our ink and charcoal-covered fingers on photos from our very first session which took place in May at our venue House of Rock. Thank you to MDPhotography!
On May 19th, 2013, we were proud to feature the founder and co-producer of premier local burlesque troupe The...
Read Full Article
RSS
NYC Events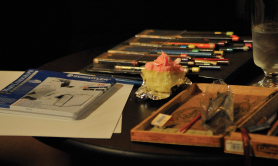 Art Tumblr