Branch Blog - Christchurch, New Zealand
Mon, November 01, 2010 • Bites and Pieces
Phew… what an epic halloween! Just got a few wee bites to share with you all… We hosted a truly wild session with our Gore night on Thursday. Check out what local blogger Cecil Macabre had to say about our session:
Advent of the New – Cecil Macabre
One of our stars was the beautiful Gracie Hart. She's now got a fanpage on facebook. Go on, become a fan and show her some love:
Gracie Hart Burlesque Facebook Fan Page
The Flying Burrito Brothers are always hooking us up for great prizes for our art monkeys. They're opening for lunches from Thursday. Daytime margaritas? Don't mind if we do!
The Flying Burrito Brothers Christchurch on Facebook
We're busy writing blogs and uploading photos of our last session – we'll share all the gorey details soon.
RSS
NYC Events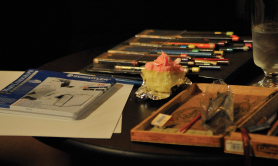 Art Tumblr
https://vimeo.com/81362468