Branch Blog - Melbourne, Australia
Sun, August 04, 2013 • Blasts Off!! back to The Atomic Age with Lola Ramone
This month we travel to Venus, the planet named after the goddess of love and beauty where we find our muse, Lola Ramone! Lola is a Melbourne based performer who has carried her love of the brashness and beauty of Americana and Atomic Age into a brand of burlesque that is at once gaudy, gorgeous and playfully perverse.
Dr. Sketchy's is for everyone, no previous artistic ability required. The world's premier alternative drawing movement.
Harzest Mag desucribes the event as "a room full of friendly people, an appreciation for art, beautiful models, unreal costumes and a truck load of fun times".
Time: 4.00am-6.00pm (Doors 3.30pm)
Tickets via MOSHTIX or on the door
Please bring your own sketchpad and art materials
W: http://www.drsketchymelbourne.com
E: [email protected]
FaceBook: http://www.facebook.com/groups/7707942862
Instagram: @DrSketchyMelbourne
RSS
NYC Events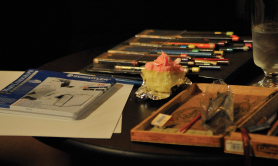 Art Tumblr
Dr Sketchy's LA 12/3/13 (pt. 1)
artofach.blogspot.com
http://drsketchy.tumblr.com/post/69132640329