Branch Blog - White River Junction
Mon, February 20, 2012 • Branch Name Change
We're still the same ol' Sketchyjunction Crew, but now, instead of being Dr. Sketchy of White River Junction, we're officially Dr. Sketchy of the Upper Valley! We are still down-gritty and we'll still be bringing you the same quality of crazy/cool models. And, for the time being, we will still be meeting at the American Legion in beautiful downtown White River Junction.
So what does the name change mean? We were just a little concerned that if we are no longer to meet at the Legion in the Junc, we would need to find another venue--and let's face it, there aren't that many places in White River that would be suitable for us--so if the new venue happened to be in Lebanon, West Lebanon, or Hanover... Well, we just thought it would be a little confusing for people if we advertised "Dr Sketchy of White River Jct.," meeting in Lebanon!
We hope you'll join us on Wednesday, February 29th for our very special 1st anniversary celebration of Dr. Sketchy in the Upper Valley. Our model and muse for the evening will be a great Elvis impersonator, we'll be serving cake, and as always there will be cheap drinks (our special will be "Blue Suede"), great door prizes, and lots of fun!
RSS
NYC Events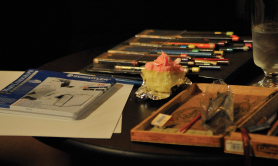 Art Tumblr
Dr Sketchy's LA 12/3/13 (pt. 1)
artofach.blogspot.com
http://drsketchy.tumblr.com/post/69132640329