Branch Blog - Lethbridge, Alberta
Mon, November 15, 2010 • Bring Your Jazz Hands!
Bring a beret and your jazz hands!
A lovely afternoon of drawing at the Owl Acoustic Lounge before hitting the the Lethbridge Art Crawl that evening!
Our model,
Clair de la Lune
, is presenting an afternoon of Fosse Jazz. Bob Fosse was an American choreographer who was highly influential to the jazz dance style. He was very simplistic yet powerful in his staging and movement. He used a cool, jazz sensibility in his choreography, yet it was burlesque in nature and sleek by choice with pelvic movement and heavy leans. Fosse Jazz has engaging poses, angles and positions that suit the portrait artist greatly.
We're also going to try out the Parisian method of life drawing whereas we start with longer poses and they get progressively shorter. So bring your beret, some paper and your drawing implements. French accents and moustaches optional.
Saturday, November 20th · 2:00 – 5:00
Owl Acoustic Lounge 411 – 3rd Avenue South Lethbridge, AB
Tix $10
You don't have to draw well but you've gotta draw!
RSS
NYC Events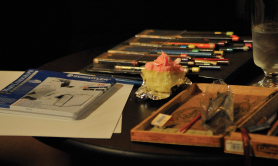 Art Tumblr
Dr Sketchy's LA 12/3/13 (pt. 1)
artofach.blogspot.com
http://drsketchy.tumblr.com/post/69132640329