Sat, June 15, 2013 • Bristol's Dr.Sketchy's is here
With Bristol's launch party less than a month away, we thought it time to let people know WE'RE HERE! As Bristol is one of the UK's leading street art locations, there was only one way we could let this beautiful city know Dr. Sketchy's has arrived... This stunning pin-up art piece was sprayed by UK artist Rose, assisted by Bristol artist Sonie, who took care of the lettering.

So sketchbooks at the ready, ladies and gentlemen. Why not come and join us for a Sunday afternoon of entertainment, drawing, socialising and a cheeky glass of wine?!

Sunday 14th July, 3pm till 6pm
The Stag and Hounds, 74 Old Market, Bristol, BS2 0EJ
Tickets available from Bristol Ticket Shop, online at http://bristolticketshop.co.uk/eventdetails.aspx?e=2683
http://www.drsketchybristol.tumblr.com
For more information get in touch with Bristol's host Lou Leigh Blue at [email protected]
RSS
NYC Events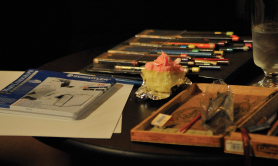 Art Tumblr
Dr Sketchy LA 12-3-13
http://drsketchy.tumblr.com/post/69027079376