Branch Blog - Lethbridge, Alberta
Fri, September 17, 2010 • Canadian Dr. Sketchy Models are a Hearty Breed
Once again, we're attempting to draw outside in the gorgeous prairie landscape of Alberta with 5 beautiful Circus models!
Once again, the weather has plummeted to 5 degrees Celsius with freezing rain possibly forecasted for Saturday, the 18th!
Before you all start making jokes about Igloos, know that this weather is due to strange icelandic volcano gods and is totally unseasonable. Usually, the Albertan fall is a beautifully warm and sunny period of harvest. Rolling wheat and safflower fields, wandering buffalo and migrating birds. We have no desire to freeze our models to death. We like them. Truly, we do! Thank you in advance Tanya Zee, Prairie Dawn, Marie Helene, Mmmelanie and Beth Millions! You are truly troopers!
So despite the weather, we are going to stick it out for at least one shift in our beautiful 20ft x 20ft tent. If it gets too inclement, come find us at the OWL Accoustic Lounge on 3rd Ave. We will be having 30 minute posing sets on the hour, between 10 am and 3 pm. Come join us in the Circus ring - just don't forget your parka!
RSS
NYC Events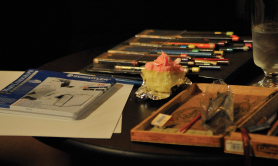 Art Tumblr