Wed, June 20, 2012 • Circus
Le 18 juin a marqué notre cinquième année au Festival Fringe de Montréal! De plus, pour la première fois depuis 2009, le beau temps nous a permis de dessiner en plein air. Quelle inspiration nous y attendait! La fabuleuse BonBon Bombay a posé pour notre thématique de cirque!
***
June 18 marked our fifth year at the Montreal Fringe Festival! Also, for the first time since 2009, the nice weather allowed us to draw outside. What inspiration awaited us there! The fabulous BonBon Bombay posed for our circus-themed event!
Pour visionner le blogue complet de la session, visitez : Dr. Sketchy Montréal
***
To view the full session blog, visit: Dr. Sketchy Montreal
RSS
NYC Events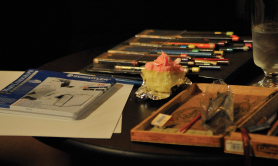 Art Tumblr
https://vimeo.com/81362468