Branch Blog - North Wales
Mon, October 11, 2010 • Coming along tidy!
I've spent the last 11 days in a Dr. Sketchy's North Wales whirl... and how lovely its been. Spoken with potential customers, possible branch photographers, lovely art monkeys and wonderful sponsors and even managed a stop over in the London Branch. We have these lovely new posters and flyers courtesy of local Welsh printers Gwasg Helygain. For our Hellish first Sketchy we have gathered some fair goodies too including this beautiful "Love Bites" necklace, complete with crystallized blood droplets...
But you gotta be there to win it!
*Starring Anna Fur Laxis & Misty Fiant*
28th October from 7:00pm Saronies Bar at The Scala, Prestatyn *Buy advance tickets here* £8.50 advance £10.00 on the door
RSS
NYC Events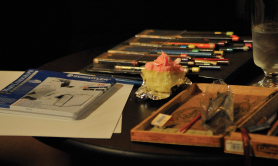 Art Tumblr
Dr Sketchy's LA 12/3/13 (pt. 1)
artofach.blogspot.com
http://drsketchy.tumblr.com/post/69132640329