Branch Blog - Charleston, West Virginia
Mon, February 28, 2011 • Counting down to the big showdown!
The big day's coming up March 20th. People will ask where you were when dueling art models Conway Titty and Pepper Fandango collided in this Country vs. Rock showdown. Come by and check us out at the World Famous Empty Glass in Charleston, WV. Only $8 at the door! 21+ only, sorry. The Empty Glass
410 Elizabeth Street
6:30 pm to 10 pm
The first pose kicks off at 7:00 pm. There were be live music from Elvis Presley Murder Files and David Synn! Prizes provided by
Baby Tattoo
books. Follow us on
Twitter
for more updates. We'll be running a contest there soon.
RSS
NYC Events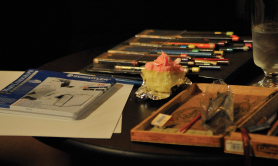 Art Tumblr
Dr Sketchy's LA 12/3/13 (pt. 1)
artofach.blogspot.com
http://drsketchy.tumblr.com/post/69132640329