Branch Blog - Charleston, West Virginia
Thu, August 11, 2011 • Derby Night with Lethal Rejection and R2-Destroy!
Our July session, featured the lovely Lethal Rejection and R2-Destroy from Huntington's own Jewel City Roller Girls! We had an awesome time at the
Kanawha Player's
completely with roller girls, drinking, and drawing. It was awesome seeing all the people to beat the heat to come out...into more heat.
They took the starting positions for their one minutes poses.
Always remember to stretch!
Not sure if this was very sporting, but I didn't have a ref handy.
Our first contest of the night was a continuous line drawing and the prize being a copy of Dr. Sketchy's Rainy Day Activity Book.
Lethal Rejection still modeling even during the break.
The second contest was a twenty minute pose called "Vs." the contestants were supposed to add an opponent jammer to their bout.
So many great submissions to this one! The winner (featuring the Lummox from Ren and Stimpy) took home a free night at
Mardi Gras Casino and Resort.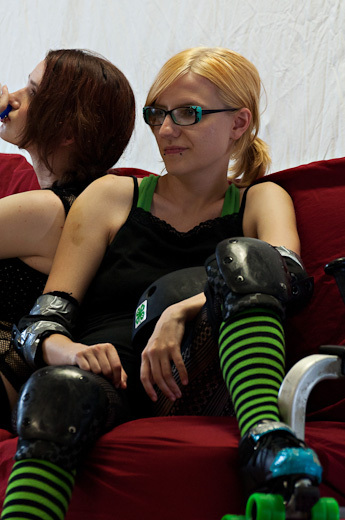 Our final twenty minute pose demonstrates how important it is to stay hydrated.
A portfolio contest followed the pose and the winner received free passes to Skateland. It was a great night, and I'd like to thank Lethal Rejection and R2-Destroy for posing because it's hard work. Thanks to Glen, Ben, Robert, Rachel, Andrea, and Ginger for helping put the show together. Also thanks to our sponsors
Mardis Gras Casino and Resort
and Skateland of Campells Creek. And of course all those Art Monkeys in the crowd.
RSS
NYC Events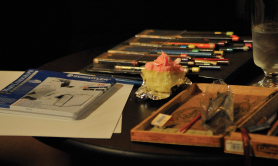 Art Tumblr
Dr Sketchy's LA 12/3/13 (pt. 1)
artofach.blogspot.com
http://drsketchy.tumblr.com/post/69132640329