Branch Blog - Akron, Ohio
Tue, April 23, 2013 • Dr. Sketchy Akron gone classic Hollywood with KING KONG!
Our King Kong tribute was amazing and a ton of FUN!!
Peggy de Lune swept in from London, UK and portrayed Ann Darrow and did a fantastic job! Not only did she bear a striking resemblence to Naomi Watts from the 2005 film, but she also made that dress which looked just like the dress worn by Fay Wray in the original 1933 film! Thanks to all who made this session a great one!
Check out more photos at our facebook page and our branch page!
Also keep up with Peggy de Lune at PeggydeLune.com and on facebook
RSS
NYC Events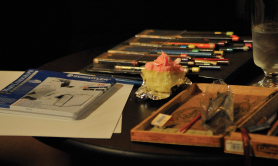 Art Tumblr