Sun, August 08, 2010 • Dr. Sketchy Philly at the Philadelphia Museum of Art
Thanks to all the Art-monkeys old and new who helped us to have an a successful session at the Philadelphia Museum of Art on Friday!
We were invited to host a session at the museum's Art After Five series and there were several hundred people in attendance. The theme was Renoir and fan-favorite models Candy Mayhem, D'Arcy D'Lux, and Tanya Dakin provided the costumes and the talent. We'll post pretty pictures of all the pretty people soon, but for now, please enjoy some iPhone photos so you can see what a fantastic night we had.
RSS
NYC Events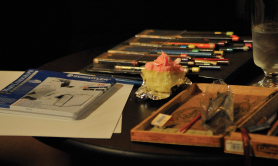 Art Tumblr
Art by me at dr. Sketchys seaside at the alternative cafe. I am Jacob Rafael Estrada
http://drsketchy.tumblr.com/post/69484943198